By Greg Bassuk, Chief Executive Officer, AXS Investments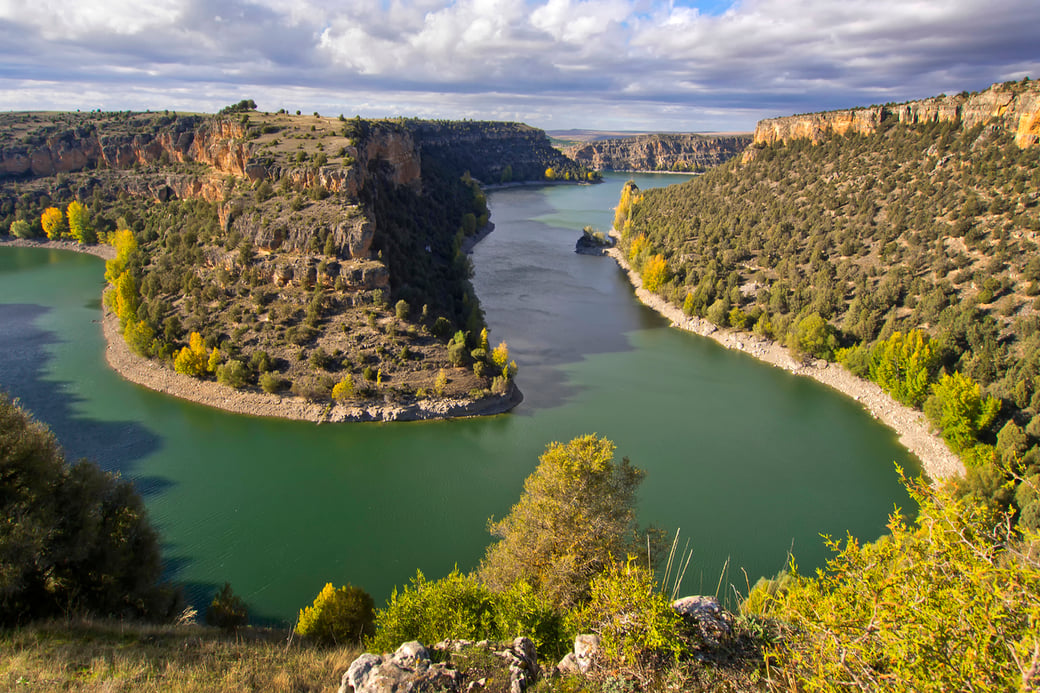 A simple visual displays the power of alternative investments
If you're an investor thinking about private equity ("PE") investing, you may have questions. The private equity industry maintains unique terminology that requires deeper exploration.
"The J Curve" is one of the phrases you'll frequently hear in private equity conversations. It's a critical phenomenon for investors to understand how best to measure the expected performance of a private equity investment..
Defining the J Curve
Among the benefits of investing in daily liquid exposures to the private equity asset class is the ability to avoid the long lock-up periods required by traditional private equity managers so that they have sufficient capital to invest over longer periods of time. A by-product of the illiquidity inherent in traditional private equity is that investors should not expect an immediate return on your money. Instead, you must understand how the traditional private equity investment structure aims to produce market-beating returns over longer periods of time.
This is where the J Curve comes into play.
The J Curve is an investment trendline defined by managers that shows a short-term loss that evolves into long-term gain. Private equity investments may tend to produce negative returns in the initial years, but show that returns eventually turn positive over time and then begin to deliver significantly higher returns toward the end of a fund or investment's life.
As you can see in the chart below, the x-axis represents time, while the y-axis represents net returns.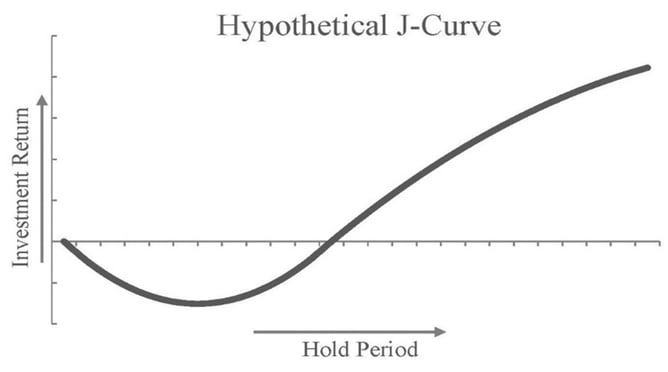 The combination of cash outlays and cash inflows will produce a net returns line that resembles the shape of the letter "J." It's essential to understand this phenomenon, as these returns can mirror the performance of a startup investment that might produce negative profits during the company's early years. However, over time, capital investments may pay off quite handily and lead to breakeven returns, and eventually to profits.
Factors impacting the J Curve
In private equity, the manager will often start with capital drawdowns to cover new and existing expenses. Over time, the investment portfolio will mature and generate positive cash flows and profits. As a result, it will often produce this J-shaped curve.
Of course, each business experiences different factors that will impact short-term and long-term returns. On the microeconomic level, companies operate in various sectors, address sector-based challenges managing fixed and variable costs, and encounter other factors like customer and shareholder demands, supply chain variance, and competition. On the macroeconomic level, elements that impact the J curve might include economic growth, interest rates, global trade, regulation and inflation.
Why it matters to investors
The J Curve is not exclusive to private equity. In fact, it is a relatively common return pattern in many disciplines, ranging from medical investments and trade imbalances in economics, to startup companies and even political science manifestations. But individuals new to the private equity space may be surprised by the negative returns that can occur with respect to traditional private equity investments.
It's essential to understand that short-term losses are part of an investment's lifecycle in traditional private equity. Investors might look at potential 10% to 15% losses in year 2 and 3, for example, and feel uncertain about their investments. However, investors should understand that these downturns may be only temporary in nature, with stronger returns to be driven, in large part, by the very same investments that initially drove the losses.
The backend of the J Curve can project and reward investors with potentially very positive returns over time. In essence, the J Curve is a visual manifestation that illustrates the notion that short-term pain can lead to long-term gain.
When equity market valuations are stretched, such as in the current time period as we're seeing stocks hovering around all-time highs, investors would be prudent to consider long-term, alternative investment strategies that can outproduce traditional stock and bond investments. If traditional private equity is an avenue of consideration, understanding the J Curve is important, as early days of the PE investment could otherwise fail to meet investor expectations.
Investors also might consider forms of private equity investing that are daily liquid and, therefore, less likely to experience the early portion of the J Curve. For example, investing in a strategy that provides daily exposure to the private equity market would not require the long-term deployment of capital and the longer wait for PE-like returns to manifest.
While certainly a core concept in considering traditional private equity investments, the J Curve concept remains highly relevant to other scenarios in which the prospect of outsized positive returns over the longer term might require patience and some tough return profiles over the short term.
---
Opinions expressed are those of the author and are subject to change, are not intended to be a forecast of future events, a guarantee of future results, nor investment advice. There are risks involved with investing, including possible loss of principal. Past performance does not guarantee future results.
Investors should carefully consider the investment objectives, risks, charges and expenses of the fund before investing. This and other important information about the Fund is contained in the Prospectus, which can be obtained by calling 833.AXS.ALTS (833.297.2587). The Prospectus should be read carefully before investing.