By Greg Bassuk, Chief Executive Officer, AXS Investments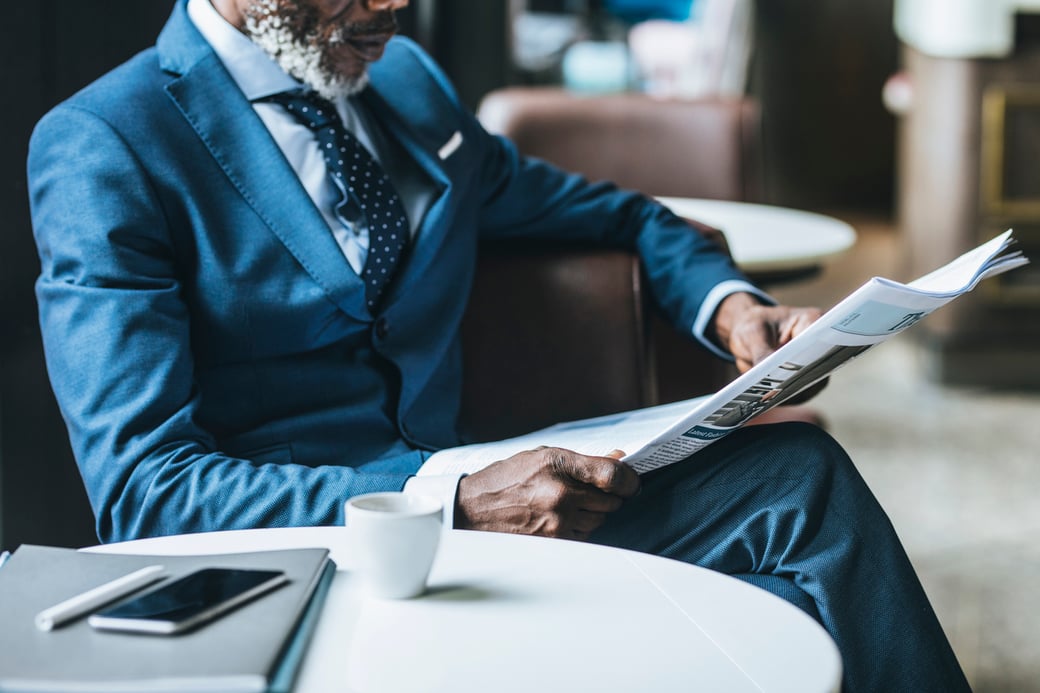 Think
Active Equity Strategies are the Best Investments? Think Again.
2021 has been a shining light for the Venture Capital (VC) industry, with global VC funding topping $288 billion over the first six months of the year.
This VC funding milestone meaningfully outpaces the previous record of $179 billion set during the second half of 2020. Market observers expect that venture capital spending will accelerate again over the final months of this year, as was the case in 2020. Last year, the U.S. venture capital market took a pause at the onset of the COVID-19 crisis.
However, following the Fed's then-active moves to buttress the economy, investors quickly became alive and engaged in VC investing. Venture capital experienced one of its best years on record, experiencing a 50.1% return in 2020.
But peel back the data further and an impressive set of figures emerge. Examining thousands of different funds and multiple strategies yields a picture of the various returns among asset classes. Looking specifically at data covering the 15-year dispersion of actively managed portfolios, measured from the median figure to the fifth percentile of gains, across several asset classes, including active hedge funds, global real estate, global private equity, and global venture capital.
Venture capital returns handily crushed the active long-only equity strategies. And it did so for 15 years. VC strategies in median to fifth percentile distribution averaged 34.2 per year from 2006 to 2020. Global PE strategies came in a strong second place, averaging 23.6% over the same time period.
The chart below illustrates the outperformance achieved by the fifth percentile of venture capital and private equity funds compared to their median.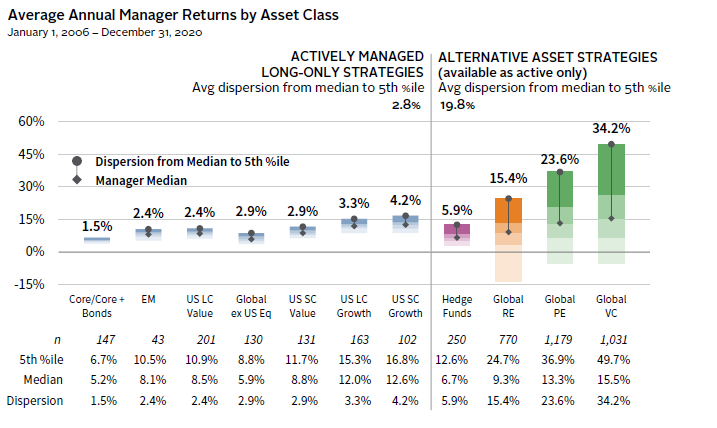 Source: Cambridge Associates LLC.
In fact, the data shows that the median performance of Venture Capital-backed firms handily beats the median returns of most actively managed funds. And the median rate of 15.5% over 15 years for actively managed VC-backed companies surpasses the fifth percentile of returns for six of seven asset classes. The evidence is clear, venture capital has provided outsized returns for investors and financial advisors seeking alternative options to achieve greater alpha and maximize portfolio performance.
Why This Matters to Investors
The equity markets remain locked in on every word ushered by Federal Reserve Chairman Jerome Powell. Equity valuations are stretched to their highest levels since the dotcom bubble and volatility is likely to increase with the ongoing global pandemic, rising geopolitical concerns and a broad range of other uncertainties that will spark new hot spots of economic and social turmoil. All these growing concerns may require investors to look outside of traditional assets and target alternative strategies that have provided strong upside potential, while offering a different targeted set of outcomes.
The evidence is clear that venture capital is compelling in our view. Despite the 2008 financial crisis and the March 2020 market nosedive, venture capital has meaningfully outperformed active equity strategies and we believe is positioned well to do so for the foreseeable. If investors and their financial advisors are not having this conversation, a compelling opportunity may be missed.
---
Alpha is the excess returns derived from an investment above the benchmark return. Hedge funds are investment pools whose managers employ various strategies, periodically including purchases loaned money and trading assets that are more esoteric, in order to seek to outperform. Real estate investments typically include either direct or pooled assets allocated to residential or commercial property. Private equity is an investment in a private company that is not listed on a public exchange. The proceeds of private equity investments are used by private companies to fund new technologies, pursue acquisitions, and grow working capital. Venture capital investing is very similar to private equity investing, but the venture capital asset class includes exposures to early-stage companies, whereas private equity investments typically include exposures to later-stage companies.
There are risks involved with investing, including possible loss of principal. Past performance does not guarantee future results.
Venture capital investments involve a greater degree of risk; as a result, the Fund's returns may experience greater volatility than the overall market. The AXS Thomson Reuters Venture Capital Return Tracker Fund does not invest in venture capital funds nor does it invest directly in companies funded by venture capital funds. The Fund seeks to generate returns that mimic the aggregate returns of U.S. venture capital-backed companies as measured by the Thomson Reuters Venture Capital Index (TRVCI). There is a risk that the Fund's return may not match or achieve a higher degree of correlation with the return of the TRVCI. Additionally, the TRVCI's return may not match or achieve a high degree of correlation with the return of the U.S. venture capital-based companies.
Investments in equity securities are subject to overall market risks. To the extent that the Fund's investments are concentrated in or significantly exposed to a particular sector, the Fund will be susceptible to loss due to adverse occurrences affecting that sector. Loss may result from the Fund's investments in derivatives. These instruments may be illiquid, difficult to value and leveraged so that small changes may produce disproportionate losses to the Fund. Over the counter derivatives, such as swaps, are also subject to counterparty risk, which is the risk that the other party in the transaction will not fulfill its contractual obligation. In certain circumstances, it may be difficult for the Fund to purchase and sell particular derivative investments within a reasonable time at a fair price.